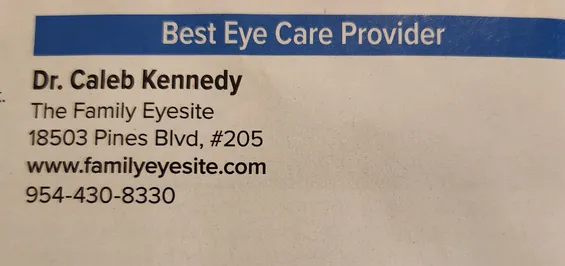 Here at The Family Eye Site, Dr. Caleb Kennedy and his team are dedicated to providing the best quality of eye care to patients in and around the Pembroke Pines area. We know how vital it is to maintain your eye health to function throughout daily life. Physical changes in the eyes from age, disease, or a chronic condition can make it harder for your eyes to perform at their optimal level. Our committed staff is here to provide you with the quality eye care you need to maintain or improve your vision. We also offer highly effective surgical treatment for cataracts, retinal diseases, anomalies of refraction, glaucoma, strabismus, and other ocular pathologies.
It All Starts with An Eye Exam
If you are experiencing difficulty with your vision, it is important to visit our team before the issue worsens. We will review your vision history, check the structure of your eyes, look for signs indicating if there is a problem, and make a diagnosis based on our findings. After the exam is completed and a diagnosis has been made, our chiropractor will provide you with the right kind of eye care needed for your condition.
We use advanced diagnostic technology in conjunction with years of experience in eye care. Patients benefit from advanced technology because it forms the best possible diagnosis and treatment for any issue. We can detect a problem early on in its formation and help the patient get ahead of the symptoms and conditions associated with the problem. If you are living with an eye disease or a chronic condition, the exams also inform us of any changes in your condition and the kind of treatment that is needed.
We Can Help with Vision Correction and More
Eye care does not end with getting a diagnosis or status update on a chronic condition. We will then work with you to make a prescription that treats your specific vision issue. You will be able to see clearly again with the help of glasses, contacts, or Lasik eye surgery. We can fit you with prescription sunglasses for those times when you need vision and protection from the sun. Our team can also help you with vision issues caused by chronic conditions like glaucoma, cataracts, macular degeneration, and diabetic retinopathy.
Contact Us for Quality Optical Care
Whether you need a routine eye exam, a different brand of contact lenses, help with vision abnormalities, or options for corrective surgery, our team at The Family Eye Site is here to help. We make it our primary goal to provide comprehensive, reliable, and personalized optometry to our patients. Give us a call at (954) 430-8330 today to find out how we can help you!
Now offering Gucci, Tom Ford, Dior, Fendi, Tiffany's, Ray Bans, Oakley, Kate Spade, Salvatore Ferragamo, Nike & More...